DOUGLASS PARK — The West Siders held their own music festival on Saturday to protest Riot Fest taking over part of nearby Douglass Park over the weekend.
The popular music festival took place on the corner of Cermak Road and Marshall Boulevard on Saturday as part of residents' long-running efforts to remove Riot Fest and other mega festivals from Douglass Park.
Attendees listened to live music, ate snacks and painted while mingling near signs on the lawn that read, "NO MEGA FESTS IN DOUGLASS PARK!"
Residents have for years expressed concerns about holding the festival in Douglass Park – and their frustrations came to a head this summer after a third major festival moved to the park. Douglass Park now hosts Lyrical Lemonade Summer Smash, Heatwave and Riot Fest in the summer and early fall, which means residents are locked out of part of the park for weeks during the warmer months.
Residents demanded that the festivals start, display posters and protest in other ways.
In August, the Park District held an open forum where neighbors said the festivals dragged traffic, slowed down emergency vehicles, cut off residents' access to the park, displaced local football leagues and programs, and created public safety concerns.
The Park District Board is currently considering a proposal that would require event organizers to obtain council approval to hold an event with 10,000 or more people per day in a park.
But Riot Fest continued as usual over the weekend. Festival representatives did not immediately respond to a request for comment.
Emily, a West Side neighbor who did not wish to share her last name, said she attended People's Fest because "we are here to fight for our community and our young people."
Brianna Tong, one of the musicians who performed at People's Fest, said the lyrics of her punk songs focus on the lack of care officials have for members of the community.
"money [Riot Fest] raised is up to the aldermen," she said.
The Chicago Reader reported that Riot Fest has donated tens of thousands of dollars to political action committees linked to local aldermen, and the Park District has given the festival a steep discount on permit fees — including a 90% reduction in 2015 that saw Riot Fest pay just $233,508 of the $2.35 million it was supposed to make.
The Park District did not immediately respond to questions about the reduction.
Ana Solano, a member of Unete La Villita, a West Side organization that fights mega festivals, said the big discount the Park District gave Riot Fest is that the money isn't put back into the community. .
"Who are these festivals really for? " she says. "They are not for us."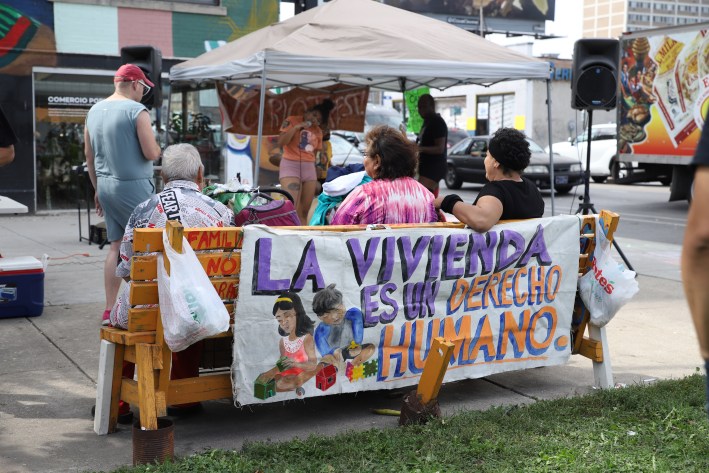 But some locals have supported the festivals, saying they bring investment to the community and help boost local businesses.
Nicole Delgadillo, a Brighton Park resident who has attended Riot Fest four times, said she has never had a bad experience there.
"It's one of those festivals that doesn't get out of hand. It's a nice environment," she said.
Festival organizers hold clean-up events and offer free tickets and other perks to park neighbors. Riot Fest recruits residents for temporary festival jobs and organizes beautification events, and lyrical lemonade organize park clean-ups.
Riot Fest also made commercials showcasing West Side businesses and played them on big screens between sets throughout the weekend.
The companies behind the festivals also have to pay to repair the parks after their events.
Juan Otalora said he supports mega festivals because they give him job opportunities.
"The pay is great, but the networking opportunities are even better," he said, and Riot Fest is his "favorite event to work" among the big events he's attended this year.
Edith Tovar, a member of the Little Village Environmental Justice Organization, said Riot Fest may provide jobs, but the community continues to see disinvestment.
"Having concert organizers suspended from temporary jobs is a joke," Tovar said. "It's not an economic improvement. It will not help our community and our neighbors out of poverty.
Emily said her frustration with the community goes beyond the disruption caused by mega festivals.
"We constantly fight for clean air, community resources, health care, housing and safety," she said. "Riot Fest needs to understand that they are not welcome here.
"They were never invited by the people, and our people can do without big festivals here."
Listen to "It's Alright: A Block Club Chicago Podcast":